1880   – This iconic building was designed by Frank E. Edbrooke. It was built as a school for girls, called The Brinker Collegiate Institute after its owners, Joseph and Elizabeth Brinker. They owned and operated the school from 1880 (eventually turning it into a coeducational facility) until 1886.
1889   – Forced into foreclosure after Joseph Brinker's death, the building was sold to two of the West's most notorious gamblers. They turned it into Hotel Richelieu, a gentleman's club. Only six months later, the new owners lost the building in a card game to two other known gamblers, Ed Chase and Vaso Chucovich. They renamed the building "The Navarre" after King Henry Navarre (1553-1610), a devotee of decadence and high living. The building was turned into a bordello, offering public dining and private gambling on the bottom two floors, and more illicit pleasures on the top two levels.
1892   – The Brown Palace Hotel was built across the street, and an underground tunnel was constructed between the two buildings to share coal. Legend says that the tunnel was also used to discreetly transport gentlemen guests between the two buildings. At some point in the past The Navarre's entrance to the tunnel was sealed off, and the length of the tunnel possibly even filled in with masonry to prevent the street overhead from collapsing.
1904   – Denver Mayor Robert Speer was elected. Bowing to public pressure, he put an end to gambling and prostitution in Denver. The Navarre became a respectable dining club, although legend has it that illicit activity continued well into the 1920s.
1940s  – Johnny Ott ran the building as one of Denver's finer dining establishments. The Navarre became famous for its fresh lobster, giant Colorado steaks, and birdbath-sized martinis.
1960s – Peanuts Hucko, a well-known clarinetist who played with bands such as Benny Goodman and Louis Armstrong, bought and ran The Navarre as Denver's hottest jazz club.
1980s – William Foxley opened the building as the Museum of Western Art, for his collection of paintings and sculpture (the art was not included in the later sale of the Navarre building).
1990s – The Navarre was renovated and restored it to its Victorian roots and the Anschutz Collection of Western American art moved in.
2010   –  The American Museum of Western Art—The Anschutz Collection was founded as a nonprofit organization and the permanent home of the Anschutz Collection.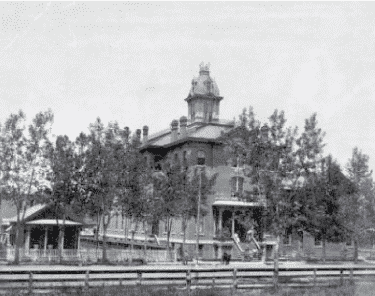 The Brinker Collegiate Institute, 1880-1890. Courtesy Western History and Genealogy Department, Denver Public Library.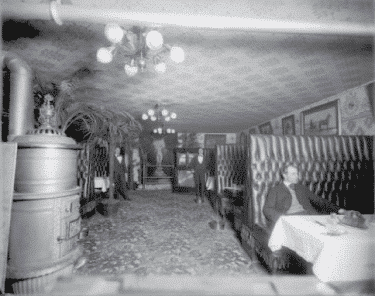 Interior of the Navarre Café, 1902-1910. Courtesy History Colorado.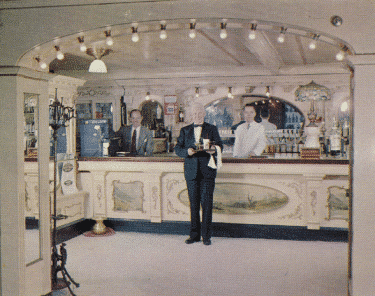 Refurbished bar and murals, Johnny Ott's Navarre, 1950s.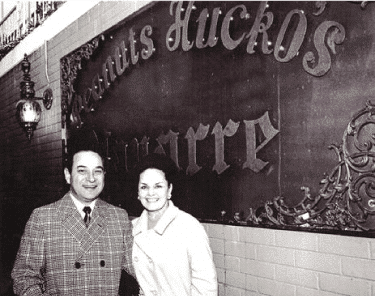 Peanuts Hucko and his wife, Louise Tobin, outside of the jazz club, 1960s.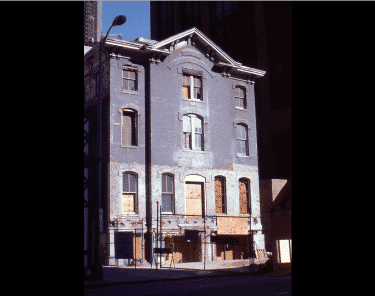 Vacant Navarre Building, 1970s. Courtesy the Office of Archaeology and Historic Preservation, History Colorado.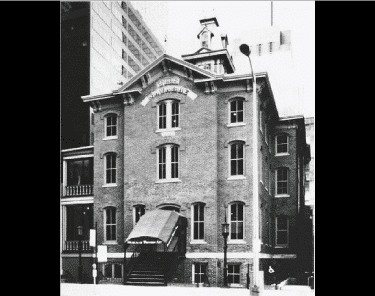 Exterior of William Foxley's Museum of Western Art, 1980s. Courtesy Western History and Genealogy Department, Denver Public Library.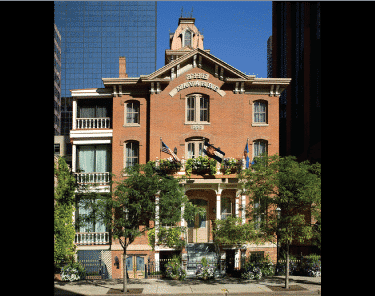 Exterior of the Navarre Building, 2017. Courtesy of American Museum of Western Art.