Join us at AMWA for our monthly Writing the West series, co-led by Lighthouse Writers Workshop. To help inspire your writing, we'll explore the Museum's galleries, stopping to hear the backstory behind a painting or two, and then hand out a few creative, themed writing prompts. At the end of the session, you'll have the chance to share what you wrote next to the painting that inspired you. Writing the West is open to writers of all backgrounds and skill levels, even those who've never written creatively before!
DIY Writing Prompts
Download writing prompts from previous sessions of Writing the West, and participate in this great collaboration on your own. The same prompts below are also available in the lobby of the museum.

Western Syntax
A very simple definition of syntax is: the word order of a sentence. One example of how a writer uses word order for her benefit is by having the sentence's final word carry the most weight. (Ex: "Vini, vidi, vici." ~Julius Caesar) But can a region possess a signature syntax? 



Frontier Myths
Take a few minutes to look around the Museum. Choose a painting that catches your eye. Without looking at its title or who painted it or when, write a list of slogans you believe most captures the painting's essence.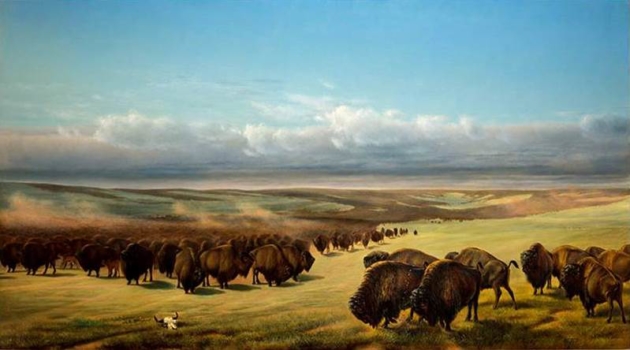 Hidden Symbols
In this painting we are witness to a sea of life. Hays was a known documentarian, so we can trust the accuracy of the depiction of the massiveness of this herd. Yet, amidst all this life we are forced to deal with a lone buffalo skull. Its symbol cannot be denied: death.




Parlors and Tunnels
Visit one of the Museum's three Victorian parlors and observe its contents. Traditionally, the Victorian parlor was a space dedicated to a property owner's worldliness. It was filled with curiosities, international oddities, exotic book collections, and more. Write a scene describing a character's parlor. What's in it? Books and bird skulls, astrolabes and fine furniture? What's its mood? Brooding, erudite, celebratory? What do we learn about this charachttp://www.anschutzcollection.org/wp-content/uploads/2016/09/Screen-Shot-2016-09-15-at-11.23.30-AM.pngchutzcollection.org/wp-content/uploads/2016/09/ParlorsandTunnels.DIYOnline_AMWA.pdf" target="_blank" rel="noopener">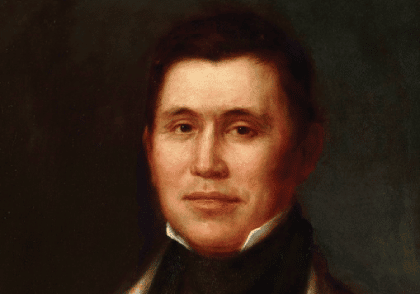 Progress & Protest 
 Look at the image of Jessy Bushyhead and consider how Native Americans were asked/told/forced to assimilate to American customs. Then, turn that same lens inward and look at how you are asked/told/forced to assimilate to the West. Is it through the media, laws, food, clothing, religion, transportation, war? Is there a Way of the West? If so, do you subscribe to it?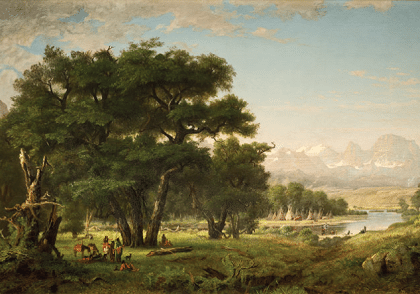 Western Color Palette
 Think about the colors you've witnessed as being most prevalent in the Mountain West, Southwest, or West Coast and create a color palette of one of these regions. Then, pick a painting whose subject matter looks to be from the same region. Is its color palette similar or different than what you described? Write down your observations.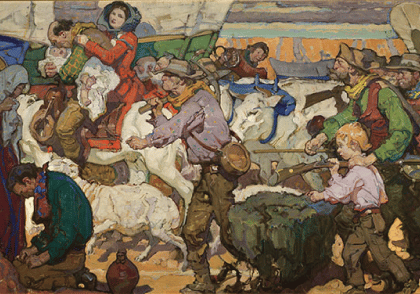 Working the Mine
Choose a painting that strikes you in some way. Mine the painting of its details, such as colors, composition, subject matter, theme, or all of the above. If it helps, make a list of your findings. Then, use the heat of your imagination to smelt out a piece of writing from this ore. If there's time, use the same raw materials to write another piece, only this time use a different genre, or a different form within the same genre as your delivery method. For example, if you wrote a free verse poem first, write a formal poem second, such as a sonnet or haiku. What do you notice? What happens, if anything, when you switch forms using the same material?